"It's that rarest of short story collections: There's not a single lump of coal."
-- KIRKUS, IN A STARRED REVIEW
I was thrilled to be part of this winter holiday short story collection, edited by Stephanie Perkins, author of Anna and the French Kiss.
My story is called "Midnights," and it takes place over five New Year's Eve parties, as two characters -- Noel and Mags -- meet, become friends, then become best friends, and then try to figure out whether they're supposed to be something more.
This is the first time I've written a short story, and I'm really proud of how "Midnights" turned out.
iBooks
Amazon
Barnes & Noble
Indie Bound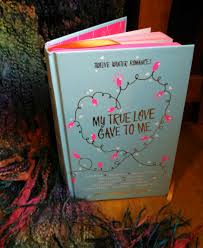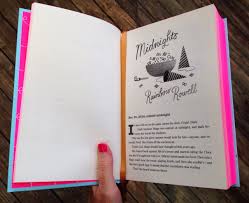 My True Love
in the UK
UK readers can find two editions of the anthology at Waterstones -- a blue cover with pink pages, and a pink cover with blue pages. Both have gold ribbon bookmark.
Nice things people are saying about My True Love Gave to Me
"Rich language and careful, efficient character development make the collection an absorbing and sophisticated read, each story surprisingly fresh despite the constraints of a shared theme. It's that rarest of short story collections: There's not a single lump of coal."
— Kirkus, starred review

"There's no shortage of cozy setups for holiday romance in this captivating collection of short stories…a rare seasonal treat."
— Publishers Weekly, starred review

"Holiday canoodling stories by twelve of the top YA authors? It's a Christmas miracle! This is the substantive stuff of dream stockings: a rollicking, blush-inducing, memorable holiday collection of breezy, bite-sized stories perfect a snug evening next to the fire."
— Booklist, starred review

"Never mind the winter holidays; booktalk this title all year round."
— School Library Journal, starred review

"Stunning and diverse, this holiday anthology is pure magic. This is what all anthologies should aspire to be."
— RT Book Review, 4.5 stars, "Top Pick"

"This collection of holiday stories reminds readers that while the season can be painful, it's also a time of hope. It's a marvelous collection, certain to earn a treasured spot on many Y.A. shelves."
— The New York Times Book Review
"My True Love Gave to Me is a plummy treat… Its best stories are worth savoring long past the seasonal expiration date and even beyond the teen years."
— The Washington Post

"The pure, fear-laced, yet steadily maturing relationship Eleanor and Park develop is urgent and breathtaking and, of course, heartbreaking, too."
— Booklist, starred review

"Satisfying and just sweet enough, like a good Christmas cookie, this will obviously appeal to those readers who get out the holiday decorations the day after Halloween, and it may even convert a Scrooge or two."
— The Bulletin of the Center for Children's Books